Guardian Platform
Our Guardian Platform enables the protection of forests and wildlife from illegal activities, like illegal logging and poaching. Part of this system is the Guardian device, a solar-powered acoustic streaming device that is placed high in tree-top canopies.

Overview
The RFCx Guardian device's primary purpose is to constantly gather data on the surrounding environment for processing and storage.
When connected via GSM, the Guardian device uploads a continuous recording of the surrounding environment's soundscape, transmitting the audio in real-time to the cloud for instant analysis. When the Guardian is connected via Satellite, on-board analysis of audio is performed and alerts are transmitted in real-time.
The data-powered Guardian Platform uses artificial intelligence (AI) and machine learning to deliver rapid insight into what's happening in vast forest ecosystems, identify potentially harmful behavior, and help on-the-ground rangers pinpoint and stop damaging activities as they occur.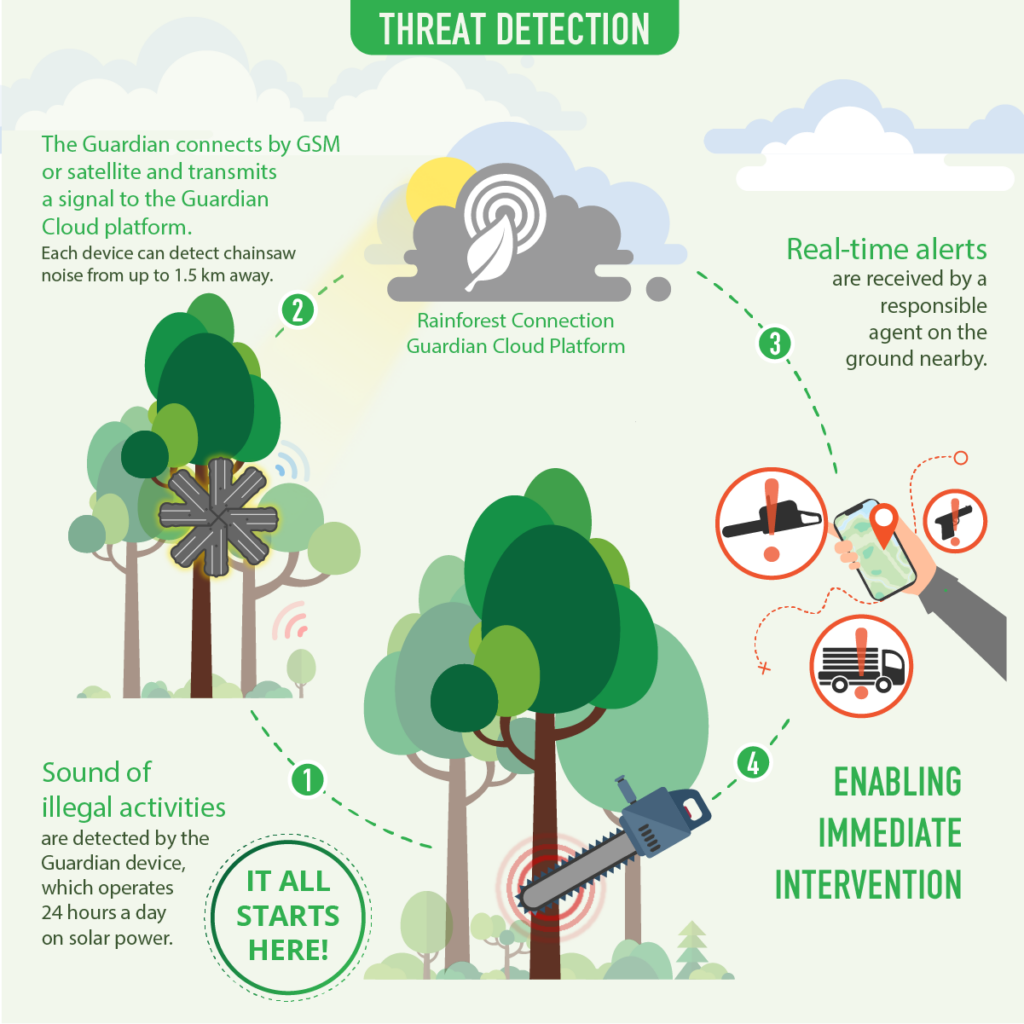 ---
Technical Specifications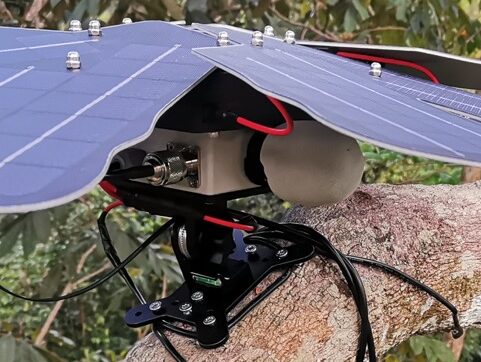 Guardians feature a highly sensitive external microphone that captures all ambient sound within a radius of 50 m to 1,500 m depending on the source of the sound.
A specialized configuration of solar panels (designed to capitalize on the thin and short-lived bands of sunlight that penetrate tree canopies), on-board power management and LFP battery packs provide power to the Guardians.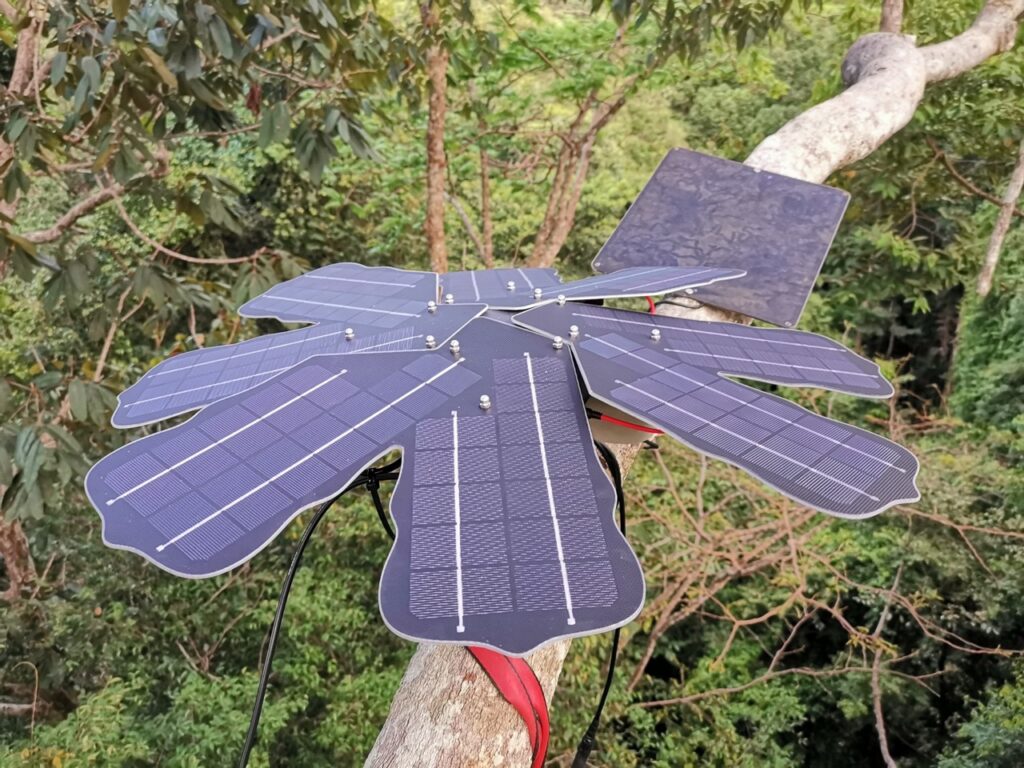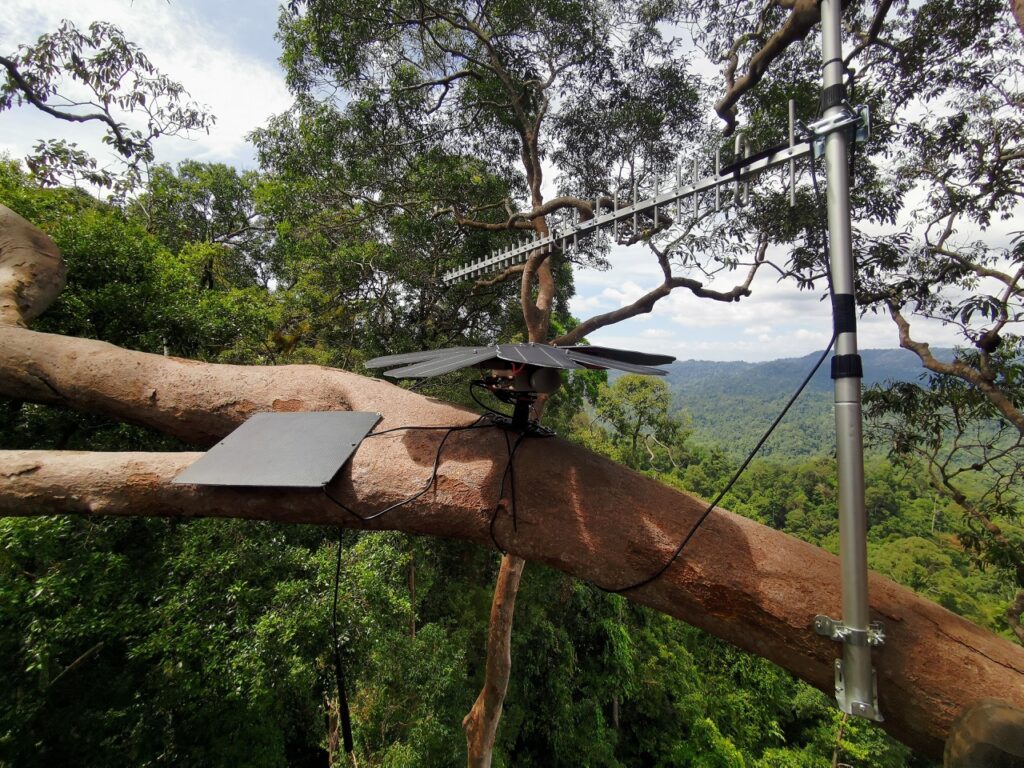 In addition to GSM and Wi-Fi, the device also comes built-in with Satellite connectivity which enables the device to run onboard audio analysis and transmit alerts in real-time.
---
IP66 Weatherproof Enclosure
Mic Sensitivity: -22dB (1 kHz at 1Pa)
Mic Frequency response: 50–18,000Hz
Dual-Core ARM Cortex CPU
ARM Mali GPU
512MB DDR RAM
128 GB Micro SD Storage expandable to 1TB
Wi-Fi, Bluetooth, GPS
GSM: 850/900/1800/1900 / WCDMA: B1/B2/B5/B8 / TD-CDMA / CDMA2000
Built-in satellite communications (SWARM)
On-board Accelerometer to prevent tampering
Solar Panel Array capable of generating up to 30W of power
Two on-board battery with over 50WH of storage capacity
Custom Power board to manage battery charging and power delivery
Custom designed frame to hold solar panel array and protect guardian enclosure from elements
Custom designed aluminum ARM to facilitate mounting of the Guardian
---