2022: A Year in Review
December 31, 2022
Rainforest Connection Threat Detection & Biodiversity Monitoring


The heavy pour of jungle rain in remote forests, the echos of monkey calls, and endless bird chatter – we've quite literally been in the thick of it this year. And we wouldn't want to be anywhere else.
With the increasing threats, and complexity of the impacts of climate change taking effect all around the world, Rainforest Connection's work protecting rainforests and monitoring species increases in demand and necessity in this world every year!
Check out the stats below to see a recap of RFCx's 2022:
391,300+ hectares monitored
expanded into 19 new countries
559 RFCx Guardians deployed
2,900+ species classified for automatic detection


We've developed and implemented Arbimon Insights, an interactive and shareable biodiversity reporting system that highlights biological and ecological results from each project.
We've developed automated identification models based on deep learning approaches for more than 600 species in threatened ecosystems around the world.
We've added new analytical tools (Audio Event Detection and Cluster analyses) in our free web-based platform that allows the automatic detection and categorization of sounds in large audio datasets, with an intuitive UI to explore the results.


We've provided 10 Arbimon workshops focused on acoustic monitoring training techniques to our partners, students, and professionals from the conservation sectors.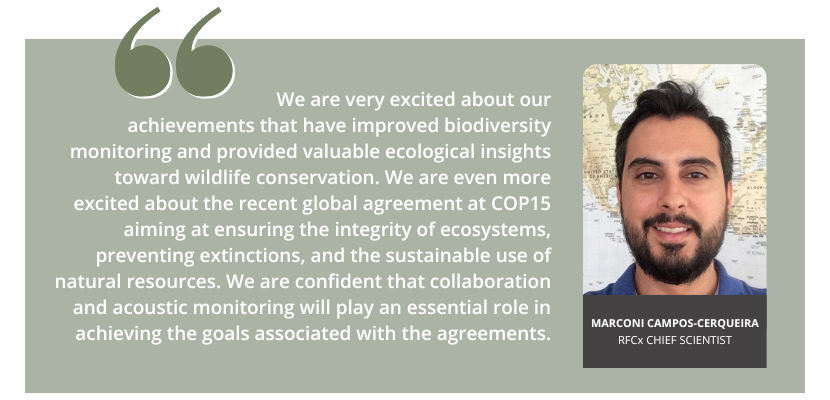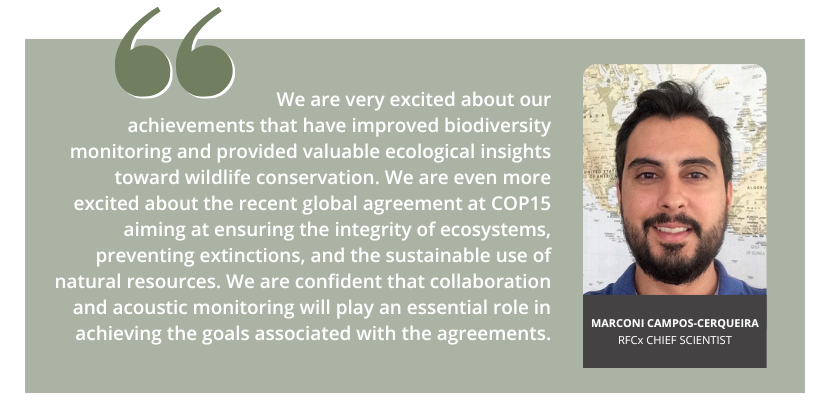 We did a week-long instagram takeover for the UN Biodiversity page (United Nations Convention on Biodiversity).
We participated in Giving Tuesday for the first year and raised over $13,080 in one day.


We've implemented projects with incredible partners around the world including in Brazil with the Jurúa Institute and IPÊ, with the Jane Goodall Institute in Gombe, Tanzania, with Partnerships4Forests in Indonesia, with Bialowieza National Park in Poland, and with over 70 other local and international organizations around the world.
We've joined forces with a wide array of organizations allowing us to magnify our impact, including Google.org, Tech4All, the McGovern Foundation, PUMA, Salesforce, DEEP Energies, Hitachi Vantara, Aspiration, Change Happens Foundation, and many more.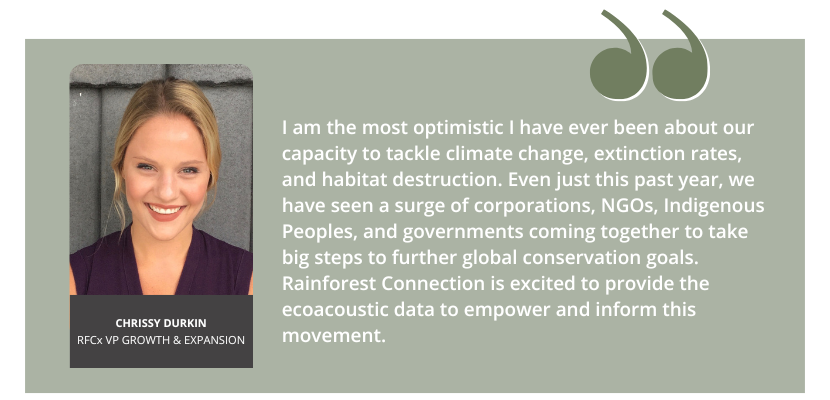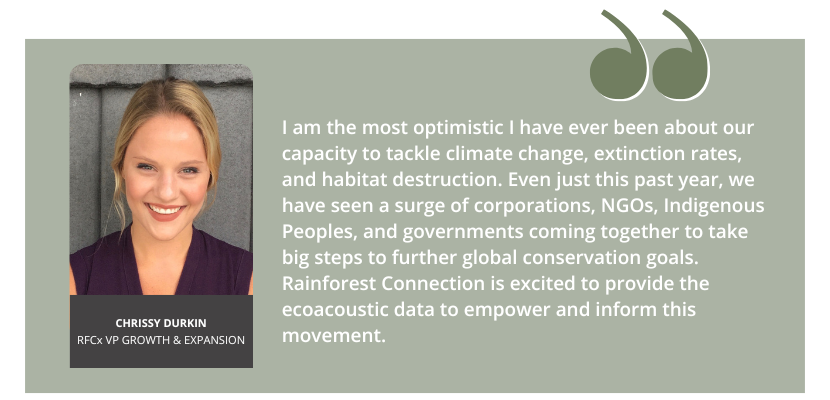 We have over 60 ongoing projects around the world ranging from mapping biodiversity returns to reforested sites, to halting illegal logging in critically threatened rainforests to understanding native bird and anuran presence in agroforestry projects, and to tracking critically endangered species in protected reserves.
We've attended and spoke at over 20 events around the world including NYC Climate Week, Collision, NOAH, First Colombian Congress of Bioacoustics and Ecoacoustics, and the American Ornithology Society's Annual Meeting.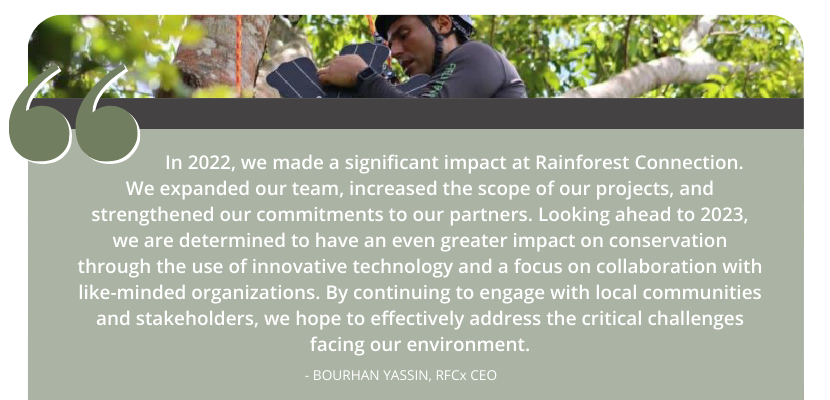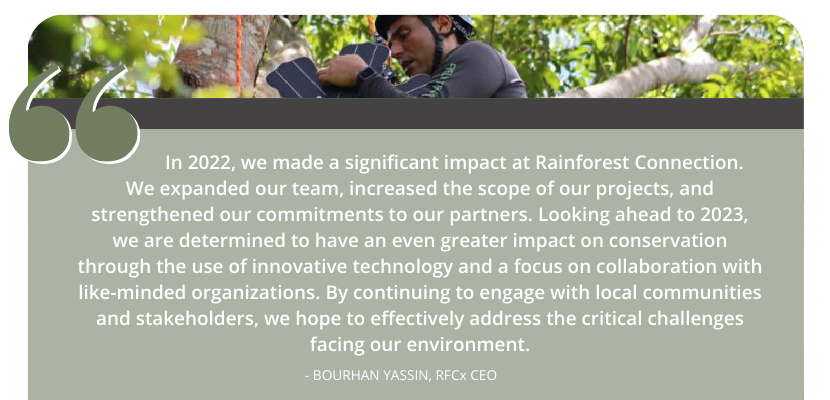 The work of protecting rainforests from illegal activities and monitoring species behaviors to gather insights for conservation efforts around the world does not come without endless challenges.
If you'd like to support the continuation of our critical work please consider making a contribution to ensure these places and species do not go unheard.
---
We're so proud of the shared determination & collaboration that has gotten us where we are this year. Cheers to the new year, may it bring hope and new opportunities to create a brighter future where species are better understood, better protected, and rainforests are preserved for generations to come.